Support Nancy Blackett this Christmas and discover some of the stories behind "Swallows and Amazons" with our collection of unique and rare books.
The late Roger Wardale chronicled the many boats in Arthur Ransome's life in "Arthur Ransome Under Sail". This book explores his relationship with them and links them to various passages in his writings.With an introduction by Peter Willis, now President of the Nancy Blackett Trust, this delightful book is a must for the Arthur Ransome enthusiast.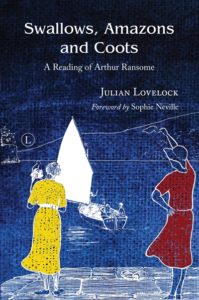 The background to each of the "Swallows and Amazons" novels is explored in "Swallows, Amazons and Coots: A Reading of Arthur Ransome".  In the first critical book devoted wholly to the series, Julian Lovelock explores each novel in turn, offering an erudite assessment of Ransome's creative process and narrative technique, and highlighting his contradictory politics, his defence of rural England, and his reflections on colonialism and the place of women in society. 
Written with a lightness of touch and enlivened by Ransome's own illustrations, there is also a foreword by Sophie Neville, currently President of the Arthur Ransome Society, and who starred as Titty Walker in the 1974 "Swallows and Amazons" movie.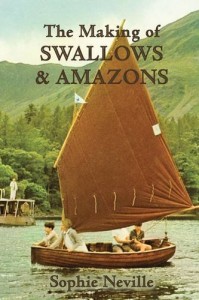 She has sent us some last remaining first edition copies of her book "The Making of Swallows and Amazons", about how, in 1973, she was cast as Titty alongside Virginia McKenna, Ronald Fraser and Suzanna Hamilton in that movie. Made before the advent of digital technology, the child stars lived out Arthur Ransome's epic adventure in the great outdoors, without even seeing a script.
As part of their schoolwork, the children kept diaries about their time filming on location in the lakes and mountains of Cumbria. Meanwhile, the hip, young, flares-wearing crew from Elstree Studios were getting to grips with transforming 1970s Bowness-on-Windermere in mid-holiday season into a 1929 idyll. Sophie never guessed that the film, the making of which is told here through the pages of her diary, would become an enduring worldwide success.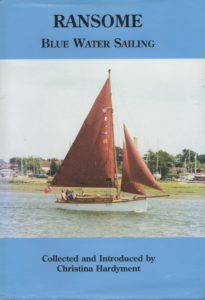 And finally, we have just 2 copies of the very rare "Ransome on Blue Water Sailing" (at time of press). Edited by Christina Hardyment, it is a compilation of Arthur Ransome's articles and book reviews on sailing, including his introductions to the Mariner's Library series and his "Saturday to Saturday", an account of a cruise in Nancy Blackett.
As always, all proceeds from the Nancy Blackett Shop go to support Nancy Blackett, so whether you are an Arthur Ransome enthusiast, student, or first-time explorer, your purchase will be going to a very good cause.
Choose your book from our complete choice of books below:
Nancy Blackett "Blue Sky" Lapel Badge
00099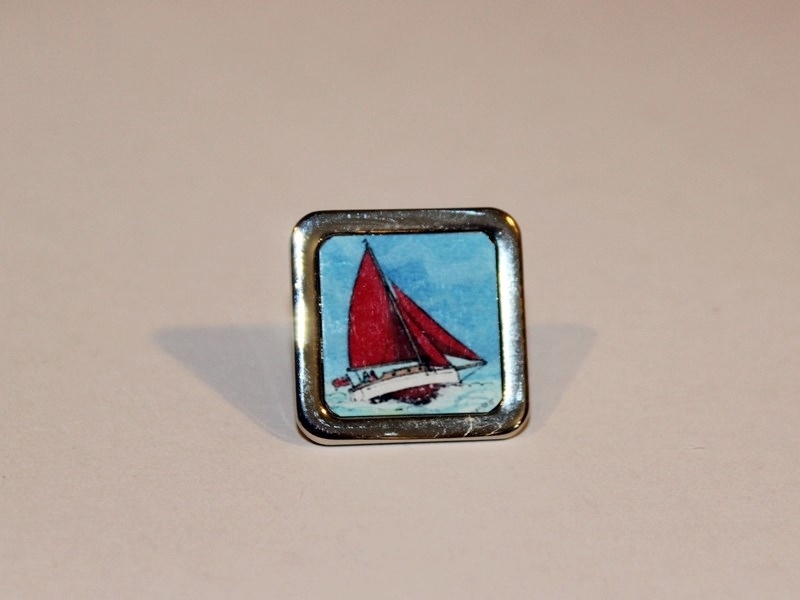 Please note: This item is handmade to order by the artist. Production and delivery is limited until further notice. To enquire please click here.
A handsome lapel badge, part of a unique range of new Nancy Blackett jewellery by our resident artist Claudia Myatt, featuring her new "Blue Sky" design sublimated onto a lightweight metal base.
Size: 2.0cm x 2.0cm